Ratings classify, or group, response scores.  You have complete control over the rating schemes, and you can use different rating schemes (or maximum scores for ratings) for different assessments.
An Assessment normally has multiple Rating records.  These indicate the grade that the respondent got for a particular sub-section, section or response. 
For example, they may be
Red, Orange, Green
Platinum, Gold, Silver, Bronze
A+,A,A-,B+,B,B-,C+,C,C-,D,E
They can have any label you like.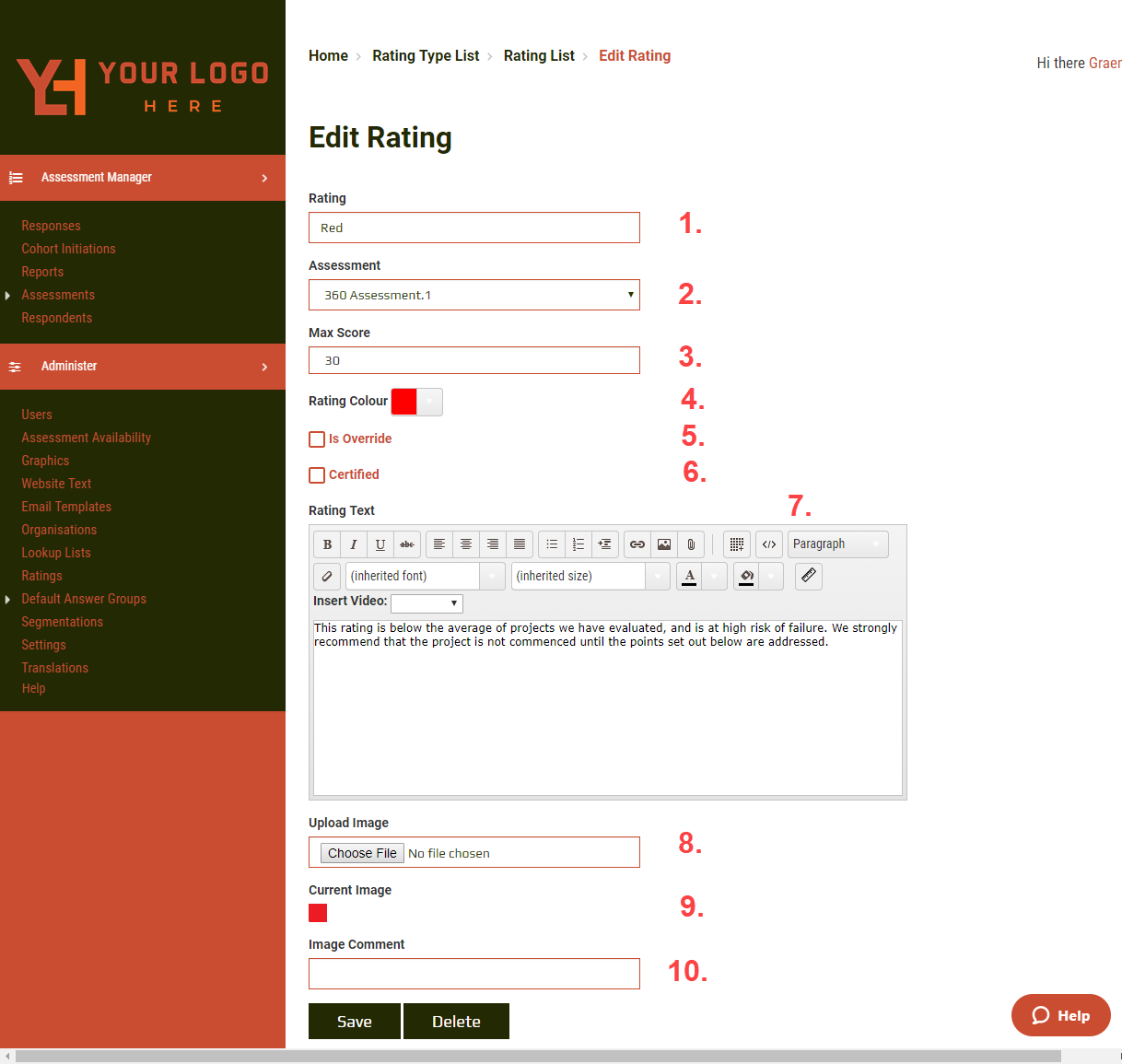 The rating name is generally internal to the system (The rating Text is used to describe it in the feedback report.
Assessment that this rating applies to
The maximum score for this rating. The next highest score implies the minimum score.  If there are no lower maximum scores, this record will apply from 0.
Rating Colour -  You can select a color or enter the hex code for the color.  It is used on all graphics relating to the rating.  Ensure that you click Apply before you exit the color picker.
Is Override - This indicator is used if this rating is used as an Override (or Not applicable).  This feature is used when a subsection should not be scored because it is not applicable to the respondent.  The Subsection specifies the answer that indicates that the Override rating should be used.  
Certified Checkbox. This is an additional field displayed on this screen if Settings field "Certifications Issued" checkbox is ticked.  If the system is being used to issue certifications, ticking this checkbox indicates that this rating passes the certification.
Rating Text. Used for Feedback Reports, to describe the overall rating.
Rating Image. If you have a badge or similar for different achievement ratings, it is uploaded here. The image is available for display in the Feedback Report. Ensure that it is sized for how you want it to appear on the Feedback Report.
The current Image is shown if one is uploaded.  
Image Comment. Is supplied to be used as an Alt Tag for the image.