The Graphic table allows you to personalize the system to your brand, and to upload images and videos displayed in the assessment.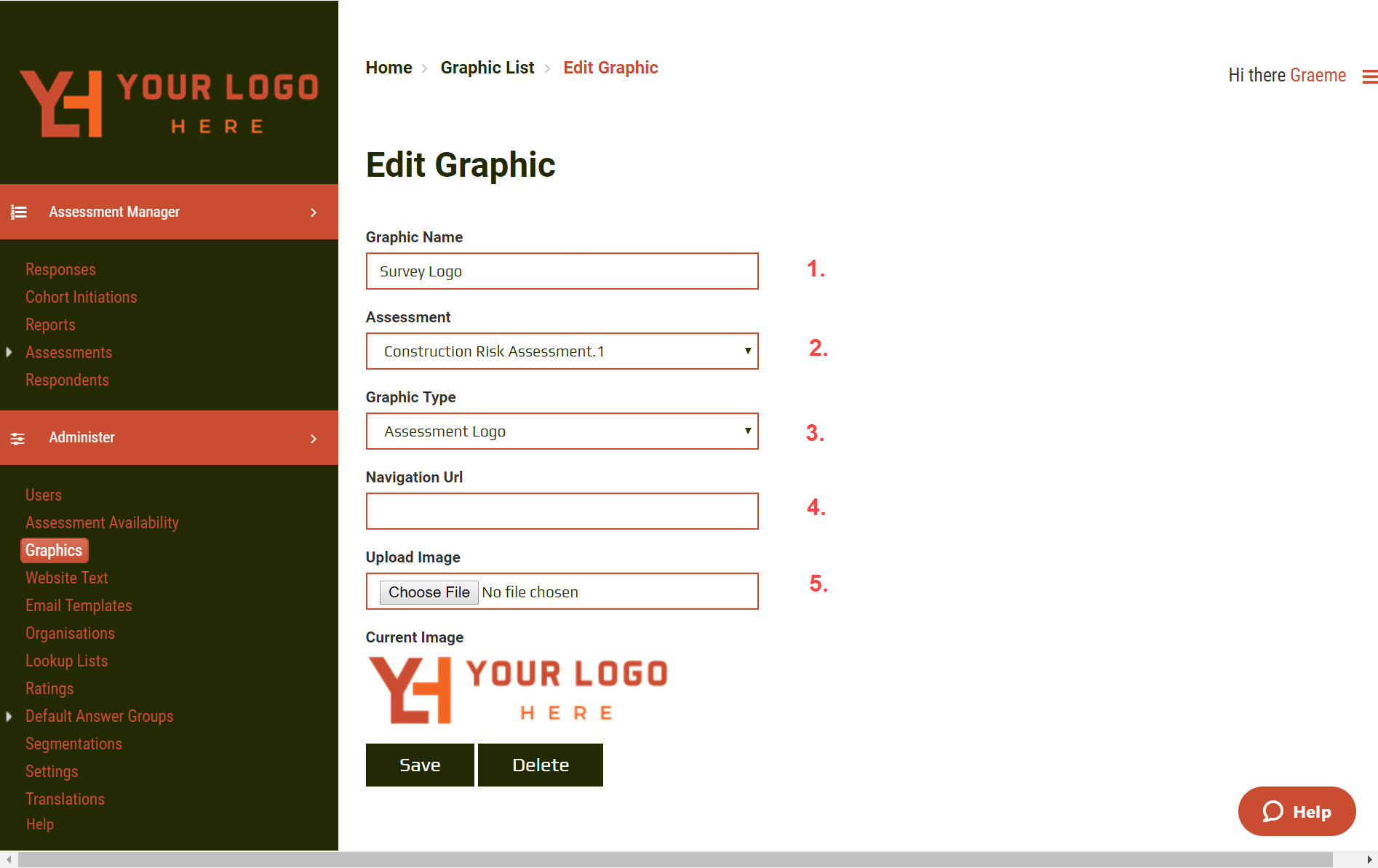 Graphic Name - This is a name for the graphic for you to use to identify it. This name is not used by the system at all.
Assessment - The assessment this graphic applies to. If it is a Portal Logo (Portal Logo or Portal Tenant) or applies to all assessments select " – Global – '
Graphic Type. See the list below.
Navigational URL. Where specified, clicking on the image will launch this URL in a separate window.
Upload Image – Navigate to the image you wish to upload for this purpose. The current image is also shown.
Graphic Type

Appears

Typical Size

Email

Used for the Email. There may be multiple records here, they are identified by their ID. (The email has the image linked in its HTML)

Can be any width up to about 700 pixels, can be any length (often 240 for a header, 120 for a footer)

Beware that when displaying on a mobile phone the size of the image will determine the magnification of the text.

Portal Logo

Appears on the left-hand side of the administration screen

Up to 320 pixels wide, typically 160-200 pixels high.

Portal Tenant

Appears on the sign-in page and the right-hand side of the administration screen

Up to 320 pixels wide, typically 160-200 pixels high.

Assessment Banner

Appears under the banner on the response screen underneath the progress bar.

1200 wide, variable depth.

Assessment Logo

Top Banner of the Assessment, Left aligned. Should be either transparent or the background should be the same color as the banner (specified on the Assessment record).

Up to 250 pixels wide. Typically around 100 pixels high, the banner will expand to accommodate.

Assessment Footer

Appears on the bottom of the assessment screen

Often about 1200 x 150, but can be any depth.

Assessment Tenant

Top Banner of the Assessment, right-aligned. Should be either transparent or the background should be the same color as the banner (specified on the Assessment record).

Up to 250 pixels wide. Typically around 100 pixels high, the banner will expand to accommodate.

Favorite Icon

Displays as favicon on the tab of the browser for the response.

must be 32x32 pixel file of type .ico

Video

Displayed in the instructions

Dependent on the size required in the instructions.

Assessment Body

Available for Instructions.

Dependent on the size required in the instructions.

Respondent Header

Top Banner of the Respondent portal and the Available Assessments List, Left aligned. Should be either transparent or the background should be the same color as the banner (specified on the Settings record).

Typically around 100 pixels high

Respondent Footer

Appears on the bottom of the Respondent Portal and the Available Assessments List

Often about 800-960 x 100