Ranking Questions use drag and drop lists for the user to select the ranking. To support scoring and report text for the position of each option, the Options are loaded as questions and the position is loaded as an answer. Rather than having a ranking question, you have a group of ranking questions presented as options.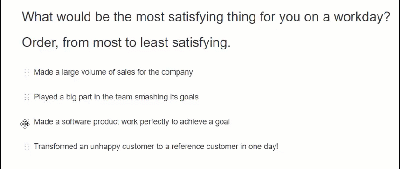 Note that each line is a Ranking Question and the Answers are in a drop-down list - In this case 1 - 4. The user can drag them into the order they require by selecting (clicking or touching) anywhere in the question. If they put an item (question) in the third position, the system will use answer 3 for scoring and reporting.
To Setup Ranking Questions to appear similarly to the above.
The heading for the Ranking Question List is an Instruction on the first Ranking Question.
Each Ranking Question must have an Answer Format of Ranking. Features like scoring and conditional questions work exactly the same as they do for any other question. The answers are hidden from the user but are based on the position of the result.
Each answer must have an answer type of Drop Down Item and must be numbered.
There must be the same number of answers to each question as there are questions. eg. 4 questions would each have 4 answers, 1, 2, 3, and 4; which represent their possible positions.
We recommend you use Default Answer Groups to set up the answers to ensure they are consistent and easy to set up. There are "out of the box" groups for 4 items and 5 items. (Called Ranking 4 and Ranking 5) If you have a different number of options (questions), you will need to set that number of answers up in Default Answer Groups.
Ranking questions must be grouped at the beginning of a subsection. Other question types may appear later in the subsection, unless randomization is used (see below)
Randomization of the subsection is allowed. The instruction will still appear at the top of the list of questions.
In the assessment builder, as the answers are hidden, they are accessible from the Question Menu
The answers are on tabbed cards, so you can access each answer (position) and set its score and Report text.