You use the Translations function to specify the translation of screen labels in the system to the languages specified in the Languages function.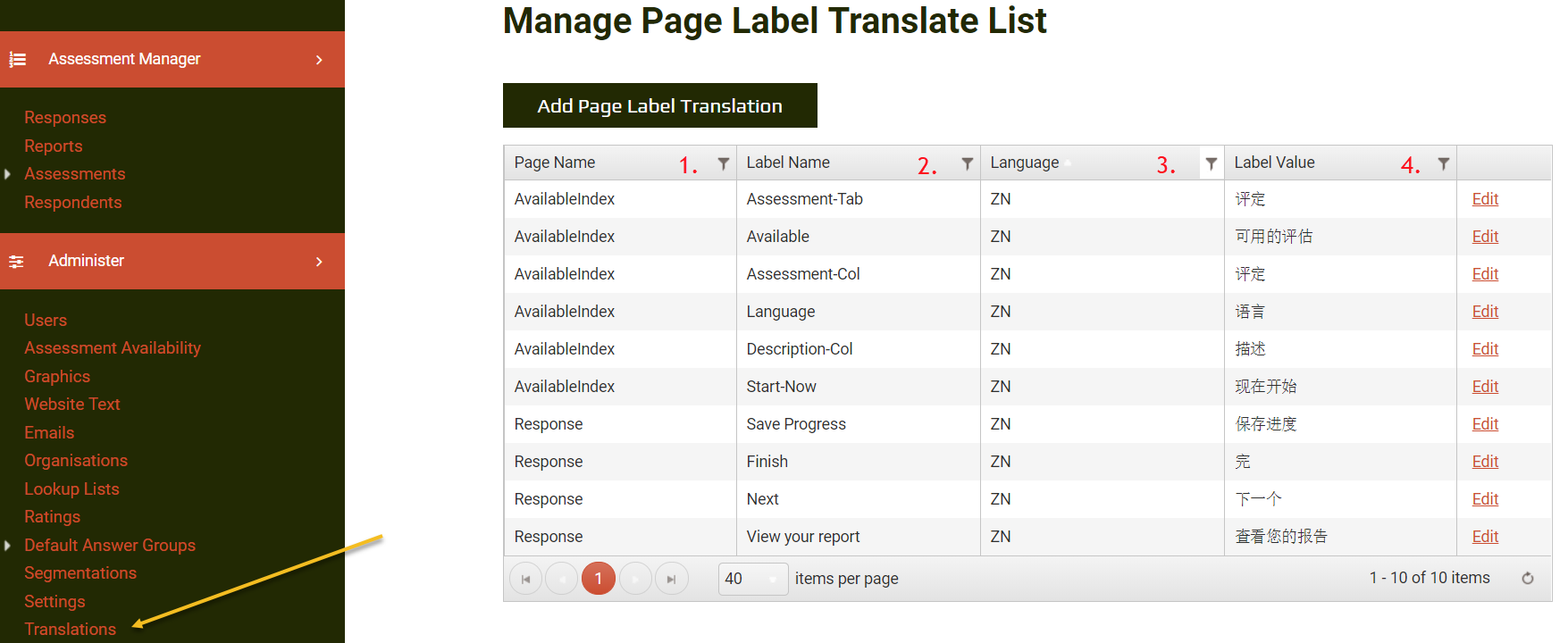 The Page Name can be either AvailableIndex (for the Available Assessments screen) or Response (for the Response entry).
The Label Name specifies which field label is replaced
The Language Code for the Language being specified
The field label that should appear.
The Available labels are:
| | | |
| --- | --- | --- |
| PageId | Label | Description |
| AvailableIndex | Assessment-Tab | The tab label |
| AvailableIndex | Available | The heading |
| AvailableIndex | Assessment-Col | The Assessment Column label |
| AvailableIndex | Language | The Language selector label |
| AvailableIndex | Description-Col | The Assessment Column label |
| AvailableIndex | Start-Now | The Start now hyperlink |
| AvailableIndex | Free | Free Price (only when Pricing used) |
| AvailableIndex | Price | Price (only when Pricing used) |
| AvailableIndex | Buy-Now | Buy Now hyperlink (only when Pricing used) |
| Response | Save Progress | The Save Progress button at the top |
| Response | Finish | The Finish button on the last page of a response |
| Response | Next | The Next button on other pages |
| Response | Select Files | The Select Files button for Images, videos, and other file types |
| Response | Complete | The Complete button (only applicable to Open Assessments) |
| Response | Click here | The link to the response from the Welcome email. |