Languages only need to be specified if assessments and responses will be completed in languages other than English. Any number of languages can be specified. If the country code is included as well (see below) merged dates will be not only in the correct language but also laid out appropriately on the report.
Languages are added and maintained using the lookup list function with a list type of Language.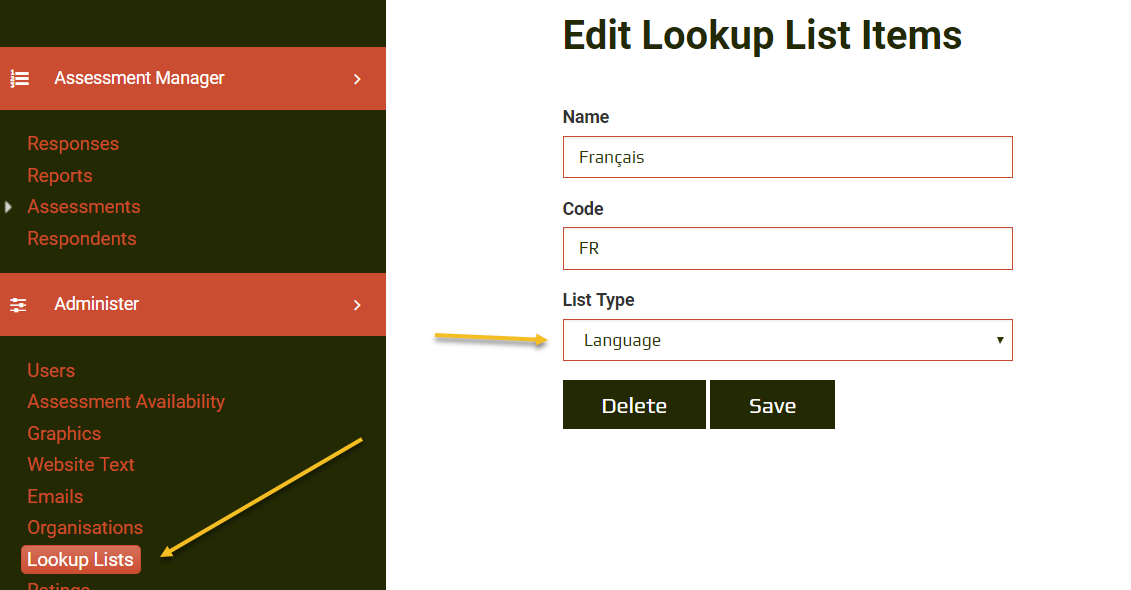 The Code can be any length but can not include spaces or special characters.
Once specified, Languages can be picked on Assessments, Site Text (for the last page of a response) and Translations (where labels are held).
We recommend using the following code, which not on specify the language, but reflect the "culture" of the country. The combination is used for the Completion Date merge string when determining the layout of the date.
| | |
| --- | --- |
| Country Name | Language-Country code |
| Afrikaans (South Africa) | af-ZA |
| Albanian (Albania) | sq-AL |
| Arabic (Algeria) | ar-DZ |
| Arabic (Bahrain) | ar-BH |
| Arabic (Egypt) | ar-EG |
| Arabic (Iraq) | ar-IQ |
| Arabic (Jordan) | ar-JO |
| Arabic (Kuwait) | ar-KW |
| Arabic (Lebanon) | ar-LB |
| Arabic (Libya) | ar-LY |
| Arabic (Morocco) | ar-MA |
| Arabic (Oman) | ar-OM |
| Arabic (Qatar) | ar-QA |
| Arabic (Saudi Arabia) | ar-SA |
| Arabic (Syria) | ar-SY |
| Arabic (Tunisia) | ar-TN |
| Arabic (U.A.E.) | ar-AE |
| Arabic (Yemen) | ar-YE |
| Armenian (Armenia) | hy-AM |
| Azeri (Cyrillic, Azerbaijan) | az-Cyrl-AZ |
| Azeri (Latin, Azerbaijan) | az-Latn-AZ |
| Basque (Basque) | eu-ES |
| Belarusian (Belarus) | be-BY |
| Bosnian (Cyrillic, Bosnia and Herzegovina) | bs-Cyrl-BA |
| Bosnian (Latin, Bosnia and Herzegovina) | bs-Latn-BA |
| Bulgarian (Bulgaria) | bg-BG |
| Catalan (Catalan) | ca-ES |
| Chinese (Hong Kong S.A.R.) | zh-HK |
| Chinese (Macao S.A.R.) | zh-MO |
| Chinese (People's Republic of China) | zh-CN |
| Chinese (Singapore) | zh-SG |
| Chinese (Taiwan) | zh-TW |
| Croatian (Bosnia and Herzegovina) | hr-BA |
| Croatian (Croatia) | hr-HR |
| Czech (Czech Republic) | cs-CZ |
| Danish (Denmark) | da-DK |
| Divehi (Maldives) | dv-MV |
| Dutch (Belgium) | nl-BE |
| Dutch (Netherlands) | nl-NL |
| English (Australia) | en-AU |
| English (Belize) | en-BZ |
| English (Canada) | en-CA |
| English (Caribbean) | en-029 |
| English (Ireland) | en-IE |
| English (Jamaica) | en-JM |
| English (New Zealand) | en-NZ |
| English (Republic of the Philippines) | en-PH |
| English (South Africa) | en-ZA |
| English (Trinidad and Tobago) | en-TT |
| English (United Kingdom) | en-GB |
| English (United States) | en-US |
| English (Zimbabwe) | en-ZW |
| Estonian (Estonia) | et-EE |
| Faroese (Faroe Islands) | fo-FO |
| Filipino (Philippines) | fil-PH |
| Finnish (Finland) | fi-FI |
| French (Belgium) | fr-BE |
| French (Canada) | fr-CA |
| French (France) | fr-FR |
| French (Luxembourg) | fr-LU |
| French (Principality of Monaco) | fr-MC |
| French (Switzerland) | fr-CH |
| Frisian (Netherlands) | fy-NL |
| Galician (Galician) | gl-ES |
| Georgian (Georgia) | ka-GE |
| German (Austria) | de-AT |
| German (Germany) | de-DE |
| German (Liechtenstein) | de-LI |
| German (Luxembourg) | de-LU |
| German (Switzerland) | de-CH |
| Greek (Greece) | el-GR |
| Gujarati (India) | gu-IN |
| Hebrew (Israel) | he-IL |
| Hindi (India) | hi-IN |
| Hungarian (Hungary) | hu-HU |
| Icelandic (Iceland) | is-IS |
| Indonesian (Indonesia) | id-ID |
| Inuktitut (Latin, Canada) | iu-Latn-CA |
| Irish (Ireland) | ga-IE |
| Italian (Italy) | it-IT |
| Italian (Switzerland) | it-CH |
| Japanese (Japan) | ja-JP |
| Kannada (India) | kn-IN |
| Kazakh (Kazakhstan) | kk-KZ |
| Kiswahili (Kenya) | sw-KE |
| Konkani (India) | kok-IN |
| Korean (Korea) | ko-KR |
| Kyrgyz (Kyrgyzstan) | ky-KG |
| Latvian (Latvia) | lv-LV |
| Lithuanian (Lithuania) | lt-LT |
| Luxembourgish (Luxembourg) | lb-LU |
| Macedonian (Former Yugoslav Republic of Macedonia) | mk-MK |
| Malay (Brunei Darussalam) | ms-BN |
| Malay (Malaysia) | ms-MY |
| Maltese | mt-MT |
| Maori | mi-NZ |
| Mapudungun (Chile) | arn-CL |
| Marathi (India) | mr-IN |
| Mohawk (Mohawk) | moh-CA |
| Mongolian (Cyrillic, Mongolia) | mn-MN |
| Norwegian, Bokmål (Norway) | nb-NO |
| Norwegian, Nynorsk (Norway) | nn-NO |
| Persian (Iran) | fa-IR |
| Polish (Poland) | pl-PL |
| Portuguese (Brazil) | pt-BR |
| Portuguese (Portugal) | pt-PT |
| Punjabi (India) | pa-IN |
| Quechua (Bolivia) | quz-BO |
| Quechua (Ecuador) | quz-EC |
| Quechua (Peru) | quz-PE |
| Romanian (Romania) | ro-RO |
| Romansh (Switzerland) | rm-CH |
| Russian (Russia) | ru-RU |
| Sami, Inari (Finland) | smn-FI |
| Sami, Lule (Norway) | smj-NO |
| Sami, Lule (Sweden) | smj-SE |
| Sami, Northern (Finland) | se-FI |
| Sami, Northern (Norway) | se-NO |
| Sami, Northern (Sweden) | se-SE |
| Sami, Skolt (Finland) | sms-FI |
| Sami, Southern (Norway) | sma-NO |
| Sami, Southern (Sweden) | sma-SE |
| Sanskrit (India) | sa-IN |
| Serbian (Cyrillic, Bosnia and Herzegovina) | sr-Cyrl-BA |
| Serbian (Cyrillic, Serbia) | sr-Cyrl-CS |
| Serbian (Latin, Bosnia and Herzegovina) | sr-Latn-BA |
| Serbian (Latin, Serbia) | sr-Latn-CS |
| Sesotho sa Leboa (South Africa) | ns-ZA |
| Setswana (South Africa) | tn-ZA |
| Slovak (Slovakia) | sk-SK |
| Slovenian (Slovenia) | sl-SI |
| Spanish (Argentina) | es-AR |
| Spanish (Bolivia) | es-BO |
| Spanish (Chile) | es-CL |
| Spanish (Colombia) | es-CO |
| Spanish (Costa Rica) | es-CR |
| Spanish (Dominican Republic) | es-DO |
| Spanish (Ecuador) | es-EC |
| Spanish (El Salvador) | es-SV |
| Spanish (Guatemala) | es-GT |
| Spanish (Honduras) | es-HN |
| Spanish (Mexico) | es-MX |
| Spanish (Nicaragua) | es-NI |
| Spanish (Panama) | es-PA |
| Spanish (Paraguay) | es-PY |
| Spanish (Peru) | es-PE |
| Spanish (Puerto Rico) | es-PR |
| Spanish (Spain) | es-ES |
| Spanish (Uruguay) | es-UY |
| Spanish (Venezuela) | es-VE |
| Swedish (Finland) | sv-FI |
| Swedish (Sweden) | sv-SE |
| Syriac (Syria) | syr-SY |
| Tamil (India) | ta-IN |
| Tatar (Russia) | tt-RU |
| Telugu (India) | te-IN |
| Thai (Thailand) | th-TH |
| Turkish (Turkey) | tr-TR |
| Ukrainian (Ukraine) | uk-UA |
| Urdu (Islamic Republic of Pakistan) | ur-PK |
| Uzbek (Cyrillic, Uzbekistan) | uz-Cyrl-UZ |
| Uzbek (Latin, Uzbekistan) | uz-Latn-UZ |
| Vietnamese (Vietnam) | vi-VN |
| Welsh | cy-GB |
| Xhosa | xh-ZA |
| Zulu | zu-ZA |