Roles are only required and available when the Cohort Initiation Checkbox on the Settings Screen is selected.
The Cohort Initiation functionality allows you to invite 'subjects' to initiate their own Cohort reporting, for example, for 360 Feedback Reports or Group Reporting.
Roles are used to specify how the respondents will be grouped within the cohort report. For example, in a 360 you may have Manager, Peers, Subordinates, and Self; in a company report, you may have Board, Executive, Management, and Staff. You must have at least one role to use Cohort Initiations.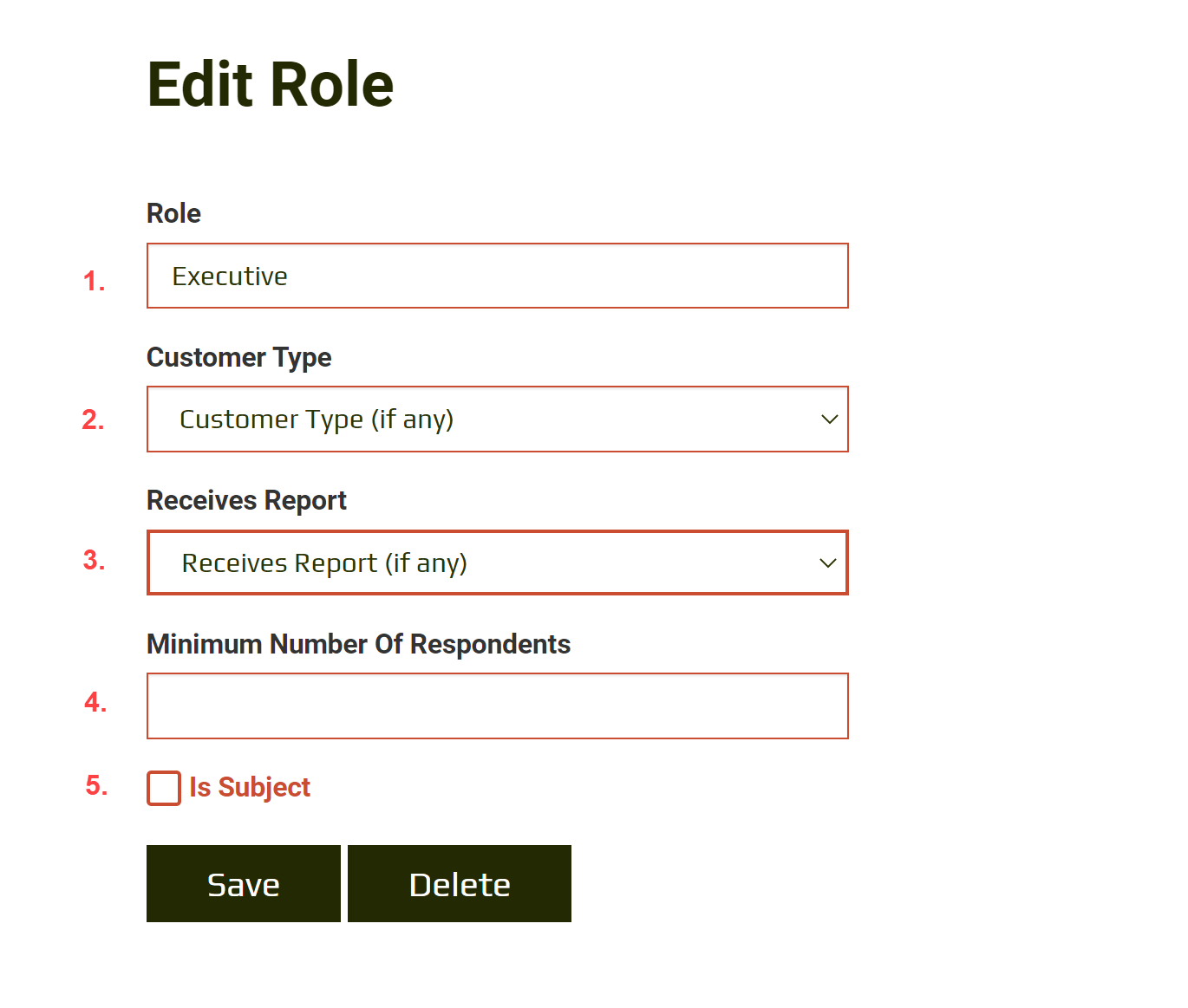 The Role is used as the identifier for responses from this role. It is automatically transferred to the Report Identifier field in Response Settings when the responses are created (by the Send Invitations function), for later use in the Cohort Report.
A Customer Type can be associated with the role, and this will be copied into the Response when it is created. Customer Types are used to differentiate the emails to be sent, asking the respondent to complete a response. Typically you would want two customer types for this - one for the email to the subject ("Self") and one for all of the other raters - just so you can word it appropriately. (Read more about Customer Types.)
The Receives Report field is only used when the Assessment Settings Cohort Report Recipient field is set to "As Specified for the Roles". It is used when a copy of the report is to be sent to respondents. The options available are to

send the report, based on the Report Template on the Cohort Report record to the respondents from this role.
send the report, based on the Alternate Report Template on the Cohort Report record to the respondents from this role.
The Minimum Number of Respondents is the number of completed responses need for the automatic production of the report (after Completion Date). All roles for the assessment must have their minimum number. It is valid to have zero if there is no requirement for responses from that role. It does not affect the production of the report through the Cohort Report Manager.
The Is Subject checkbox applies to 360 Reports and ensures that the subject of the report is, by default, invited to assess themselves (as well as other people they specify).