This release includes functionality that has been made available by small releases over the last few months.
Merge Manager Word Add-In
We have introduced an MS Word Add-In that makes it much easier to create and change Merge strings in your feedback or cohort report templates. You make selections in the Merge Manager and it composes the merge string for you.
The Merge Manager is connected to your assessment, so all of the selection options are based on the structure of the assessment, and rather than selecting by, for example, Section Number, you select by the Section Name.
You can also download and upload your report templates to Brilliant Assessments directly from Word.
See the updated training video on Creating a Feedback Report.
See a detailed guide to downloading, launching and using the Merge Manager Add-in
We have also recently added Sample Report Templates to give you the basis for a very graphical report. We will be adding to these significantly these over the next month or two. They can be downloaded as the basis for your report.
The Merge Manager is included in trials and subscriptions.
Dashboard
The dashboard appearing on the menu about a month ago. It gives you the ability to graphically view details of responses on the system. It has comprehensive filtering capabilities, and it automatically restricts access for assessment managers accessing the system. You can view
Responses by Status (completed, unanswered, started...)
Responses by Ratings
Responses by Respondents (limited to 1000 respondents)
Sections by Ratings
Sections by Respondents
Subsections by Ratings
Subsections by Respondents
Segmentations by Ratings
Segmentations by Respondents
Questions by Answer
You can restrict its function if some queries are not needed by for organization.
Further information is here
Drag and Drop Ranking Questions
Ranking questions will now appear as drag and drop.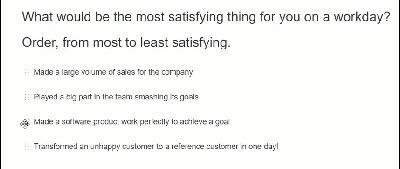 Further information is here
Many Minor Features and Issues Fixed
Many Minor features have been included and issues have been fixed. Some of the effect many users are:
Reports: Graphs: Improve handling of labels, especially 100% and the ability to have special characters in legend names (eg Section names), include the ability to specify mark colors.
Reports: Many improvements in the generation of Subsection Rating Text, considering the wide diversity of usage among the customer base.
Responses: Increase Smart questions to include all Organization levels and Customer Types.