Question and Answer Dialogue boxes consolidated in Builder
We have consolidated the Question and Answer dialogue boxes in the builder to make them more intuitive and to make the scoring clearer. The updated documentation is here and the updated quick start video, where you can see this change in action is here.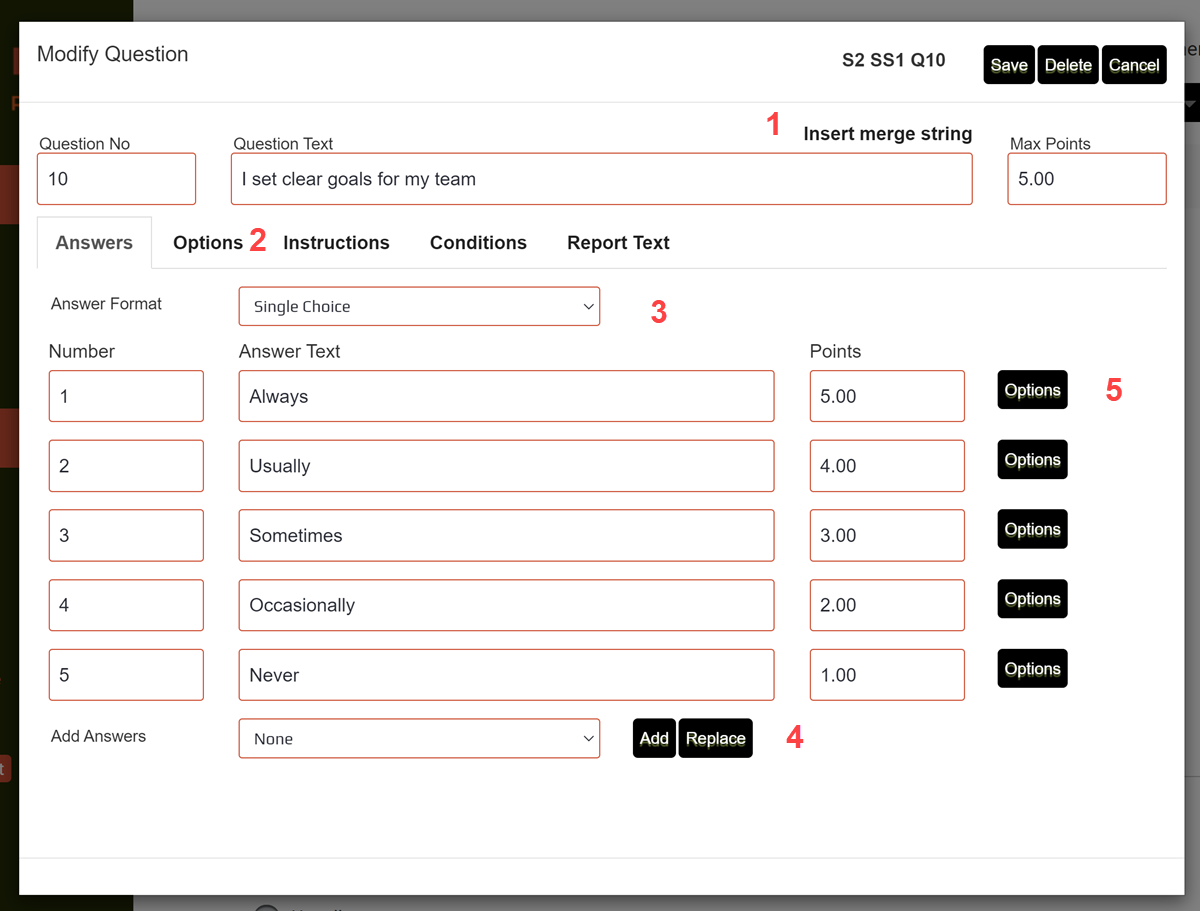 You can now have the system help you insert a merge string into the Question for Question Piping
The Options tab now has the other fields previously on the Question Dialogue, including the Question Report Name (previously Short Name). This field is now automatically populated with the Question Text on creation to make it easier to set. It still has the added function of Smart Question Names.
The Answer Format list is a consolidated list of what was previously the Answer Format and the Answer Type.
The Add Answers lists the values in the Default Answer Groups, which are now held by Answer Format. When you are creating a question you can choose to create blank answers or import a default answer group. Once those answers are imported (shown above) you can either add more or replace them from the same list.
The Answer Options has the other Answer fields (like the Short Name and the Feedback Text) from the old Answer dialogue box.
Note the Default Answer Groups have been recreated to be separated by Answer Format. If you have added your own Default Answer Groups they will need to be readded, specifying the Answer Format they apply to. We can provide assistance for that if required.
This release includes several items that have been available in the production version for a week or two, but had no impact on exiting assessments.
Additional Flexibility is responses
You can now show a Previous button and Subsection names in the Response. Both of theses options are new Assessment Settings
New options for reporting scores
Three new options
Scores in a table cell can now have a coloured background using a new Background Color parameter. This can be a single cell or can be a table to give a heat map effect: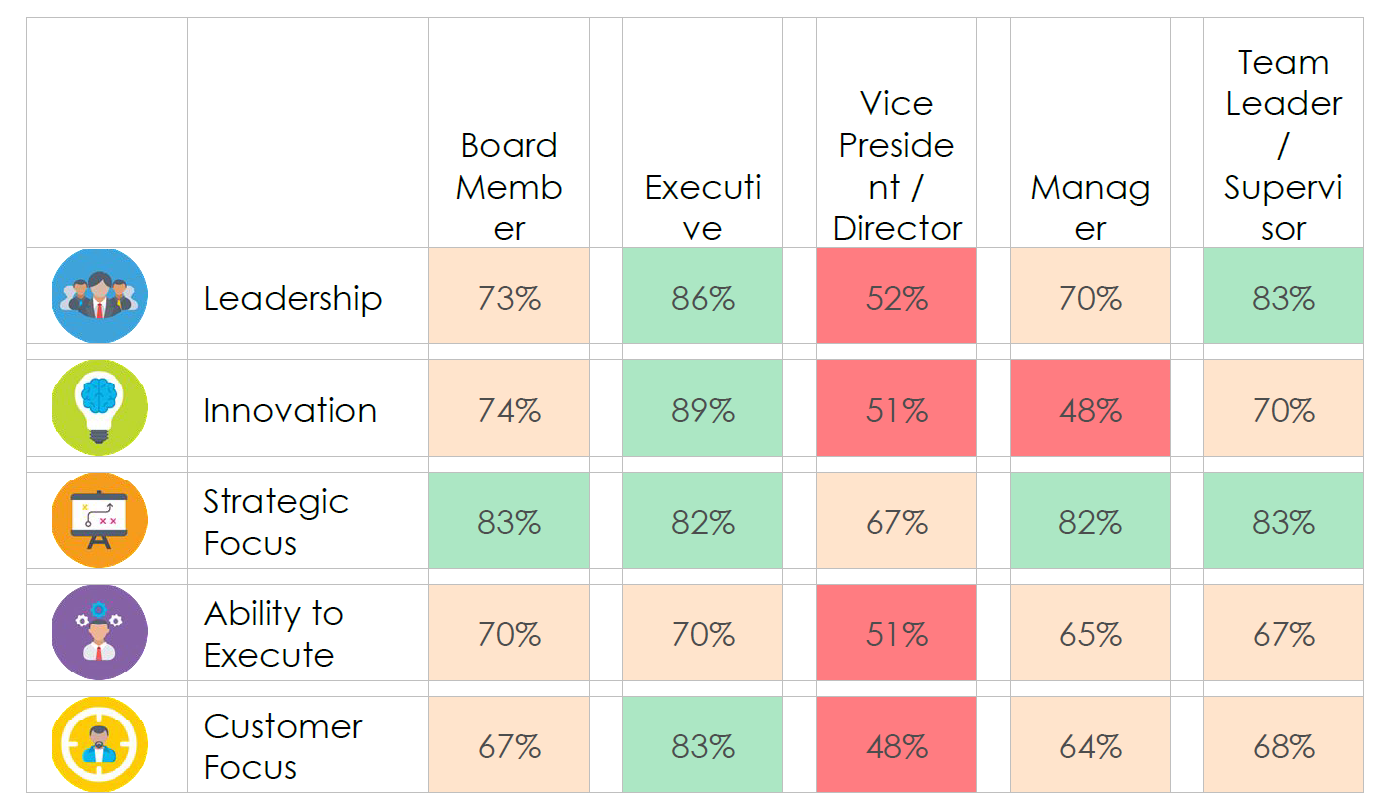 Scores can also be included as a merge string in Rating Text, so you can have the score embedded in the text.
A new Net Promotor Score is available for cohort reporting. The score is displayed as a number between -100 and 100 - calculated as the percentage of respondents who responded positively (scores of 9 or 10) less the percentage of respondents who responded negatively (scores of 6 or below).
Flexible options for user-initiated Cohorts
We have included two new options for users to initiate a cohort and to invite respondents. There are now three options:
the user enters the email address, First name, and Last Name, and selects the role, respondent by respondent,
the user copies and pastes a group of email addresses from their email system into text boxes for each role, making entry faster and more accurate,
a unique link is created for each role which can be distributed outside the system. Anonymous responses created using these links will be automatically included in the cohort.
Credit Card Processing for Cohorts has been expanded to allow for per respondent costs. The parameters to set up all of these options are on the Assessment Settings, and detailed setup information is in: Setting up Cohorts in Brilliant Assessments
Respondent Lists in Cohort Reports
You can now list the respondents for a cohort report. This may be all respondents invited, all that responded, or all that didn't respond. They may be filtered by Reporting Identifier/Role.
New Invert and Maximum Values parameters for Cohort Reports
Previously to show the detail of a cohort split was a secondary axis and shown as a legend. This is generally fine, but where you are splitting by Respondent - it's not great, for example, the graph of the left:
| | |
| --- | --- |
| Horizontal Bar Multi without Invert parameter | Horizontal Bar with Invert parameter |
| | |
On the right, the Invert parameter is used. Note that while the respondent split was the driver for this change it works with cohort split types or Identifier and Classifier too. By using a Bar Horizontal rather than a Bar Horizontal Multi - you have access to sorts and the default color rules apply (Ratings by default).
We have also introduced a Maximum Values parameter, so if there are a lot of respondents, the chart will split over multiple pages. In the case of Horizontal bars only, the height of the last page will be calculated as an approximate proportion of the number of values to be shown.
These changes apply to Vertical Bar, Horizontal Bar, Line, Spider, Polar, Multi Vertical Bar, Multi Horizontal Bar, Multi Line, Multi Spider, and Multi Polar Charts.