Bar in Bar Charts are used:
In feedback reports to show benchmark results alongside response results.
In cohort reports to show comparative results within the cohort, optionally alongside benchmark results.
Any number of bars may be shown, however it was designed to be used with one response and one benchmark.
Below is an example of a Bar in Bar Chart showing with a benchmark result alongside response results.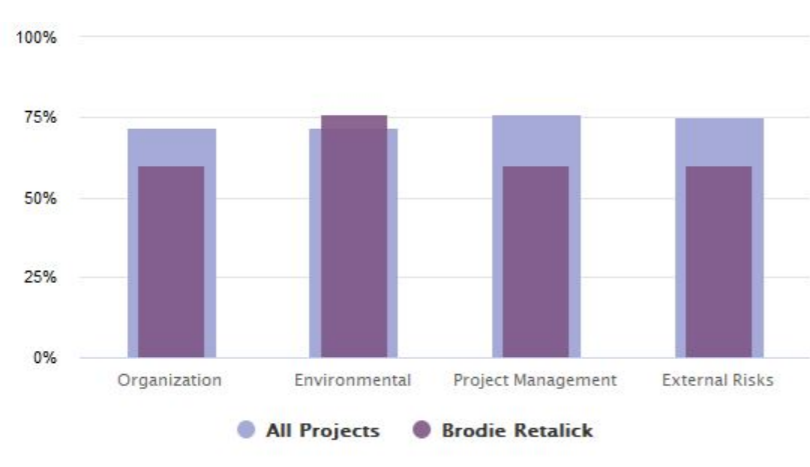 The label "All Projects" is the label that was assigned to the benchmark. 
This is an example  using the Average Actual scores, for Likert type reporting: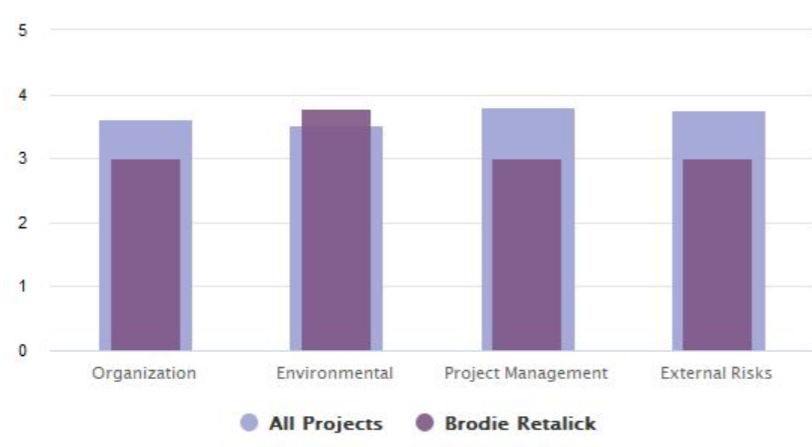 Examples of Bar On Bar merge strings:
{BarOnBar[SectionNo=All BM1=0]}

BarOnBar Chart image for a feedback report with a single response and the Benchmark for all previous responses

{

BarOnBar

[SectionNo=All

 SplitType=I]}

BarOnBar Chart image showing each identifier for the whole assessment (Bar for each section)

{

BarOnBar

[SectionNo=All

 SplitType=I ShowActual=Y]}

 

BarOnBar Chart image showing each identifier for the whole assessment (Bar for each section) - showing actuals.

 

{BarOnBar[SectionNo=2 SubSectionNo=All SplitType=I]}

BarOnBar Chart image showing each identifier by section and all subsections

{BarOnBar[SegmentationNo=All SplitType=I]}

BarOnBar Chart image showing each identifier by segmentations
Available Parameters: 
Survey
Display the entire assessment result
SectionNo=All
Display all sections
SectionNo=n
Display a specified section 
SubSectionNo=All
Display all subsections (section must also be specified)
SubSectionNo=n
Display a specified subsection (section must also be specified)
QuestionNo=All
Display all questions (section and subsection must also be specified). Benchmarking is not available at the question level, but Cohort reporting is. The Question Short Name is used as the label.
QuestionNo=n
Display a specified question (section and subsection must also be specified). Benchmarking is not available at the question level, but Cohort reporting is. The Question Short Name is used as the label.
SegmentationNo=All
Display all segmentations
SegmentationNo=n
Display a specified segmentation  The segmentation number is available in the Segmentations function.
SegG=n
Filter by a segmentation group. Segmentation Group numbers are available in the Segmentations function. All Segmentations within the group will be displayed.

Label=Y

Not available for 

BarOnBar charts.

Width=nnn
The width value in pixels.  The default is 600 pixels which is a good size for across a normal A4 or Letter page with normal margins.
Height=nnn
The height value in pixels  The default for a bar chart is 300 pixels.  If the height is specified but not the width the system will scale the chart size down proportionately.
ShowActual=Y
Display Actual Points rather than % Score (Likert Style)
Decimals=n
The number of decimal places for both the bar and the label.  Note that if you are using actual points (Likert) then without this parameter the bar length will always be whole numbers. 
YAxisMax=n
Set the maximum value of the Y-Axis (the default is based on the data being displayed.)  If the Y-Axis is a percentage enter as a whole number, eg 100 = 100%.  If labels do not display when the score is 100%, you can set the YAxisMax to 110 to allow additional space at the top.  
YAxisInc=n
Set the increment of the Y-Axis (the default is based on the data being displayed.)
ChartColors=#nnnnnn,#nnnnnn
Override the default colors for the lines, eg ChartColors=#353540,#F26424,#CB4D31
RatingType=n
Only applicable when Advanced Ratings are implemented.  Specifies the rating type for this graph.  Defaults to the Base Rating Type.
BM1=n

Displays Benchmark data alongside the response data.  If n=0, then it will show the benchmark data for all responses for the assessment and assessments linked for benchmarking.  Otherwise, n will be the Classifier number that the Benchmark is generated for.  The data shown will be for the benchmark value that matches the response for the equivalent question. (For example, if the classifier was Role and the response was "CFO" the benchmark may be "All CFO's" 

To show more than one benchmark on one chart, number them. i.e. BM1=n BM2=n BM3=n ...  You can have any number of benchmarks on one chart.

 

Parameters applicable to Cohort Reports Only 

SplitType=N
No split (averages the cohort).
SplitType=I
Split by Identifier (averages the result if there are multiple responses for one identifier).  This will show a separate chart for each identifier.
SplitType=M
Split by Month and Year (averages the result if there are multiple responses for one month). This will show a separate chart for each month.
SplitType=Y
Split by Year (averages the result if there are multiple responses for one year). This will show a separate chart for each year.
The Order and Order Type Parameters order the results. The default order is the Section No/SubSection No/Segmentation No order 
Order=DESC
Orders what is shown in descending order by value
Order=Asc
Orders what is shown in ascending order by value
OrderType=Alpha
Orders the list in Alphabetical Order
OrderType=Score
Orders the list in Score Order