Segmentations allows for an additional level of scoring, rating, and reporting (in both the feedback and cohort reports). All scores, ratings, and graphics can be reported by segmentations, possibly alongside the normal response/section/subsection structure.
If implemented Segmentations can be specified for
each question, regardless of where it appears in the assessment.  Each question can be linked to no, one or more segementations. 
question answers. Answer segmentations allow for each answer to a question to be linked to a different segmentation.
To implement segementations, the first step is to tick the "Allow Segementations checkbox on the Settings Screen.  
A new menu item "Segmentations" will appear in the Administration menu.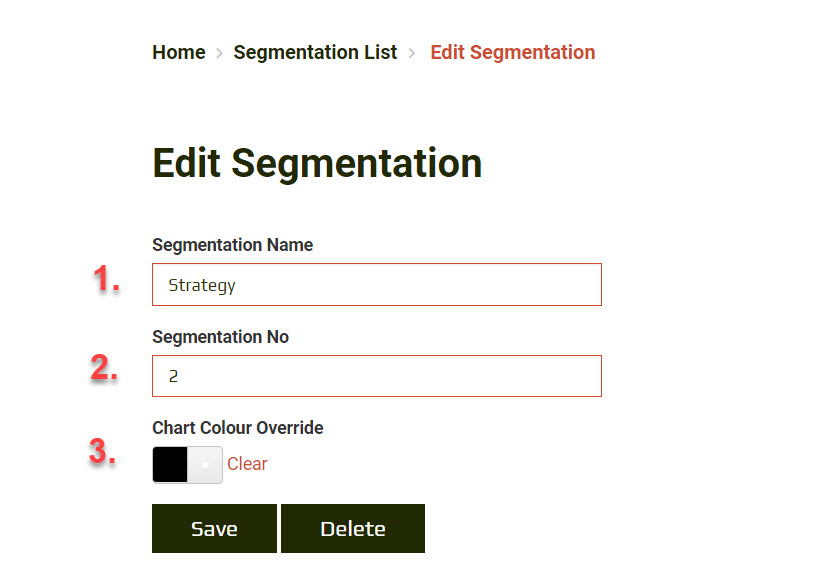 Give the Segmentation a name
Number the Segmentation for ordering
Choose a color if you wish to override the normal rating based color scheme on graphics. 
In the Assessment Builder,
an additional panel is added to the Questions dialog box to prompt the selection of the Segmentations that this question applies to.  (Read more about Questions) 
an additional panel is added to the Answers dialog box Advanced Scoring tab to prompt the selection of the Segmentations that this answer applies to. (Read more about Available Answers)