Users can be administrators, assessment managers or users of the respondent portal.
Assessment Managers can manage responses for specified organization levels and assessments only. They cannot change the assessment itself, or any of the administration settings.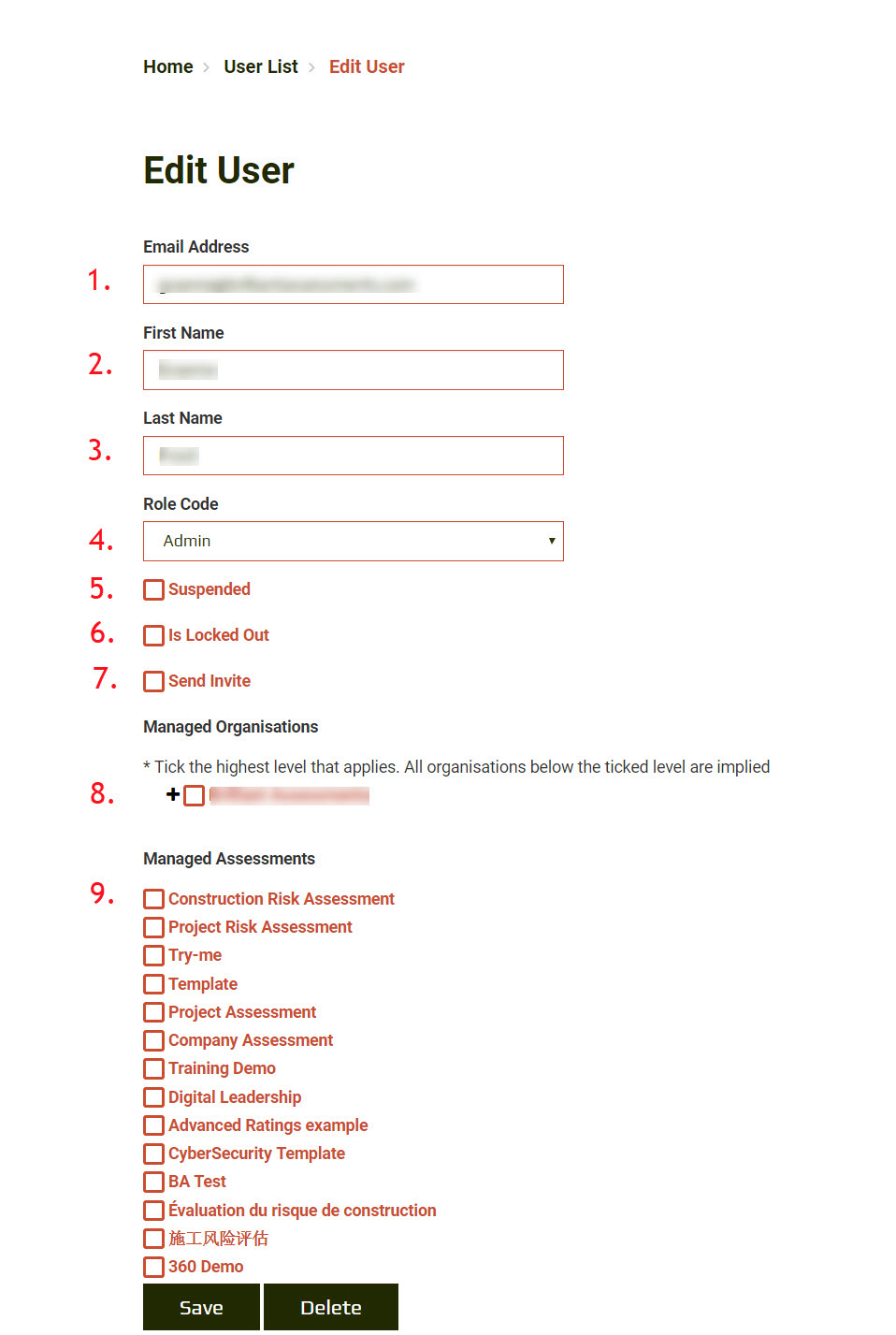 Email address of the user.
First name
Last name
Role Code. Indicates the role of this user

Admin – can change all aspects of the system
Manager – can manage respondents for the managed organizations and assessments specified. Tip: Assessment Managers must have at least one organization element and Assessment specified. This may mean that you have to create an "Our Company" Organization record and link the assessment managers and the responses to that.
Respondent – registered on the respondent portal. These user records are created automatically by the system.

Suspended. Tick this box if this user is suspended from being able to log on to the system.
Is Locked Out. This indicator will be ticked by the system if the user has tried to log on to the system with the wrong password too many times. This is a security feature to prevent others from trying to log in and guessing the password. You can untick this box to reset.
Send Invite. The Send Invite checkbox should be selected if you want to send a welcome email to the new user. Following this link, they can assign their own password. The email template should be set up with a type of

Admin/Manager Welcome for Administrators or assessment Managers, or
Respondent Welcome for Respondents.
It should contain the link to the site for the user to register as a merge text. You can resend this email by selecting this checkbox for an existing user.

Managed Organisations. This field is only relevant to Assessment Managers. It is ignored for Administrators. If this user is managing certain organization levels, they are selected here. You can expand the levels (using the + symbol), and you may select any number of organization elements for each user. Note that all elements in the tree below any selected are implied.
Assessments Managed. This field is only relevant to Assessment Managers. It is ignored for Administrators. If this person is an Assessment Manager user tick the boxes alongside the assessments that they will be able to access to invite responses.